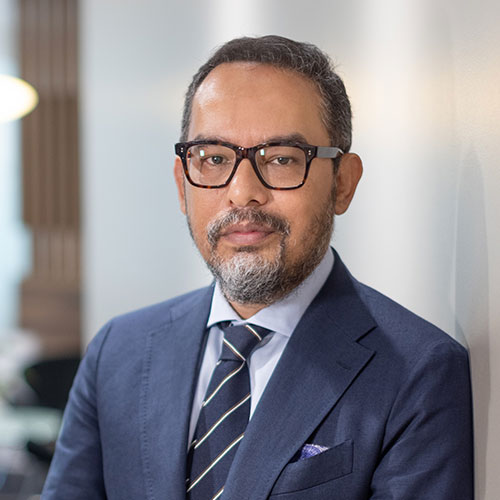 Syed Yasir Arafat
Syed Abd Kadir
Syed Yasir Arafat Syed Abd Kadir is the Chief Executive Officer (CEO), a member of the Investment Committee and a Board Member of Ekuiti Nasional Berhad (Ekuinas). He was appointed as the CEO on 1 March 2016 and he has been with the organisation since inception. He led Ekuinas' Investment team as the Managing Partner, Investment prior to his current role. He serves as a Board member of several portfolio companies including Orkim Sdn Bhd as Chairman and Icon Offshore Berhad where he is also a member of the Audit Committee and Nomination & Remuneration Committee.
Prior to Ekuinas, he spent 15 years in Investment Banking in various organisations and capacities. He was the Country Manager (ING Wholesale Banking) overseeing both ING Corporate Advisory (Malaysia) Sdn Bhd and ING Bank (Labuan) operations in Malaysia. He was with ING Corporate Advisory (Malaysia) Sdn Bhd for nine years, starting as VP Corporate Finance specialising in areas of mergers and acquisitions, equity and equity-linked fund raising, debt fund raising and financial advisory for some of the regions' leading companies in banking, plantations, automotive, telecommunications and property, among others.
Prior to that, Syed Yasir Arafat was attached to United Overseas Bank (Malaysia) Berhad, Pengurusan Danaharta Nasional Berhad, Commerce International Merchant Bankers Berhad and Aseambankers Malaysia Berhad.
Syed Yasir Arafat graduated from the University of Essex, United Kingdom with a B.A. (Hons) degree in Accounting & Financial Management. He is a Fellow of the Chartered Institute of Management (FCMA) and Chartered Global Management Accountant (CGMA).